We are specialists in the design, engineering and manufacture of turnkey components for the railway sector.
We operate with our proposal based on systems engineering and careful
production that ensures the required level of quality.
We work for leading companies in the international market
Currently involved in more than 25 railway projects, in Europe, America, Asia, Oceania and Africa.
From internal assemblies to complete cars
We develop both individual products and complete interior design solutions, such as sleeper cars.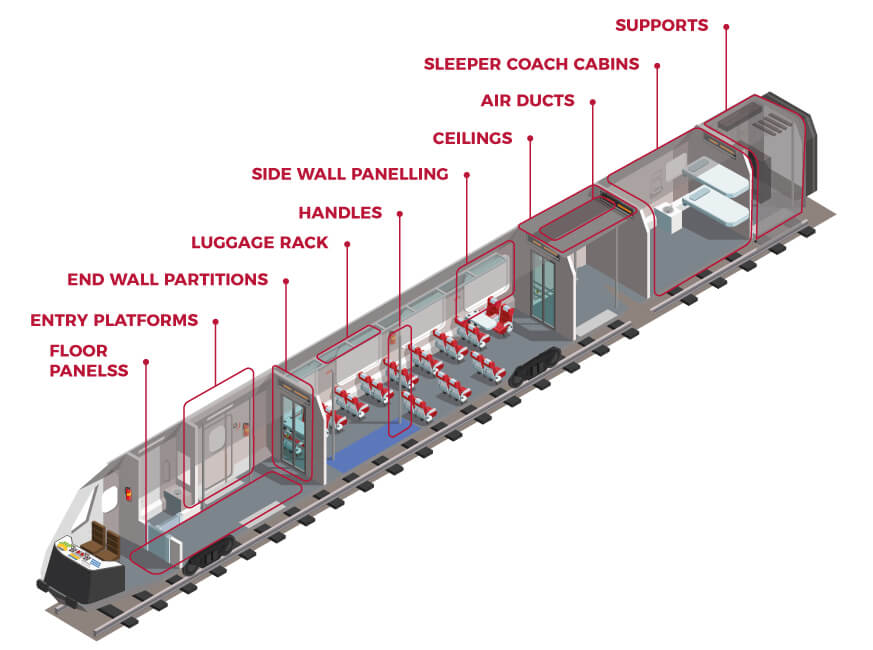 Engineering, product development





Fire resistance and durability tests

Quality control and audits


Certified quality
Quality is guaranteed by our experience and knowledge, coupled with high-level certifications and exhaustive quality controls.
The reliability of our manufacturing processes and our components is endorsed by the IRIS certificate, the benchmark for railway quality management.
The IRIS certificate extends the ISO 9001 standard for quality management systems, which EKIDE already had, including particular requirements applicable to the railway sector, including project management, obsolescence management, RAMS (Reliability Availability Maintenance and Safety) and LCC (Life Cycle Cost) strategies, supply chain and the validation of special processes, among others.